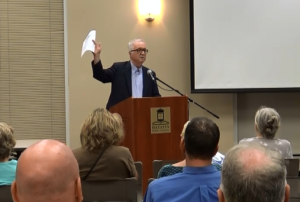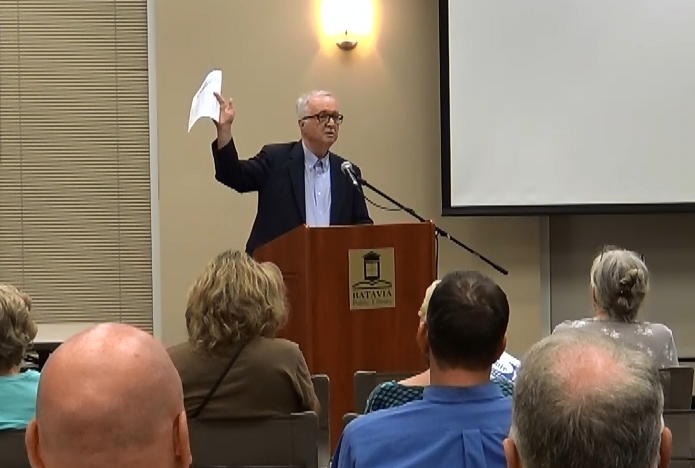 Jim Tobin, economist and President of Taxpayers United of America gave a presentation on how Home Rule affects taxpayers. Mr. Tobin has spent decades fighting home rule throughout Illinois, calling it, "the most insidious form of government in America".
In 1970, Illinois adopted a new constitution that designated any municipality with a population greater than 25,000 as a home rule unit. In addition, municipalities can vote to adopt Home Rule, or repeal Home Rule if they already have it. "Illinois Home Rule gives unlimited taxing power to bureaucrats," said Jim Tobin
In some cases, Home Rule even takes away citizens' right to vote on vital city issues and limits citizens' voice in government mayoral and council elections. "Taxpayers are effectively muzzled, except at election time, and even then, their choices are limited," according to Tobin.
The Illinois version of so-called Home Rule strips citizens of control over local politicians' power to tax, to regulate, and to incur debt. The Illinois version denies citizens the right to have a local charter or constitution to protect taxpayers from abuse or incompetence by office holders and from the hazard of easy access to public funds for developers, lawyers, bankers, and government workers.
Illinois bypasses the people of the community and puts all the power of local government into the hands of politicians. That's why students of government and political science have described the Illinois version of so-called home rule as the most insidious form of government anywhere in the United States of America. It is government by personality instead of government by principle.
Without the controls of a local charter or constitution, and with citizens stripped of their right to vote on city issues, so-called Home Rule in Illinois empowers politicians to:
1) Raise taxes without citizen permission.
2) Impose new taxes in the form of fees, licenses, and regulations.
3) Expedite seizures of private property.
4) Give city property to private interests without competitive bidding.
5) Take greater control over citizens' lives, livelihoods, property, and liberty.