TUA Executive Director Rae Ann McNeilly was quoted by CBS Chicago in an article about the Kane County tax hike.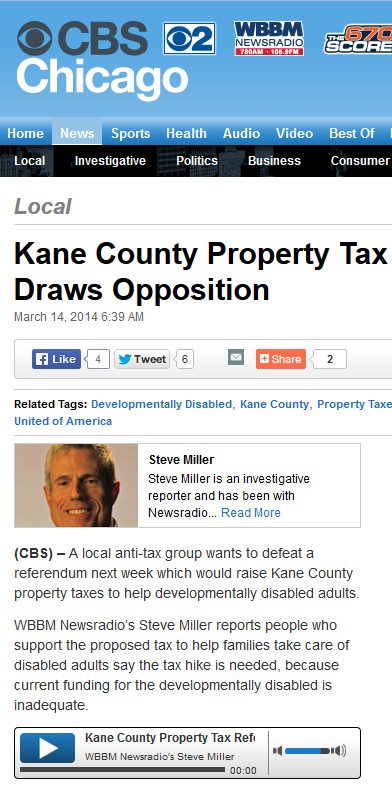 (CBS) – A local anti-tax group wants to defeat a referendum next week which would raise Kane County property taxes to help developmentally disabled adults.
WBBM Newsradio's Steve Miller reports people who support the proposed tax to help families take care of disabled adults say the tax hike is needed, because current funding for the developmentally disabled is inadequate.
Rae Ann McNeilly, executive director of Taxpayers United of America and a resident of North Aurora, agreed there's need for more funding, but not for a tax increase.
"This is not a question of whether these people need or not. This is a question of how we fund this need," she said.
McNeilly said a new tax would force taxpayers to give more – when many are already stretched to the limit.
"We are giving people a way out of taking responsibility for their children; a lifetime commitment for your child is a lifetime commitment," she said.
Supporters have said there's an increasing number of developmentally disabled people, and the tax hike is necessary to help their families pay for care.
McNeilly said that care should be privately funded, and suggested other ideas to get the money needed for those families.
"Have a bake sale. Sell some cookies. Girl Scouts do it. All kinds of organizations do it," she said.
The proposal would raise property taxes in Kane County by an average of $55 a year.