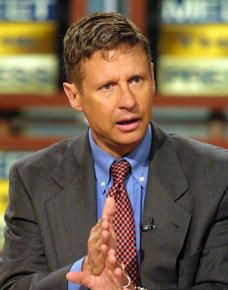 Free & Equal will hold a press conference with former New Mexico Governor Gary Johnson to support HB2854, a bill in the Illinois legislature which would allow filing fees as an alternative to the petition process.
The press conference will take place today, Thursday, March 24th at 10:45am CST, at Free & Equal's Chicago office at 407 S. Dearborn St., Suite 1170. There will be a live feed of this press conference at www.freeandequal.org.

Jim Tobin, President of Taxpayers United of America (TUA), will introduce former Gov. Johnson, and Christina Tobin, President of The Free and Equal Elections Foundation, will also be speaking.
HB2854 would generate revenue for Illinois, as opposed to the current system of petition reviews at taxpayer expense. Taxpayers United of America, one of the largest taxpayer organizations in America, has endorsed the bill, which has also generated strong interest amongst Tea Party groups in Illinois.
Gary Johnson served as Governor of New Mexico for two terms, from 1995-2002. During his tenure, he vetoed more bills than the other 49 governors combined — 750 in total. Johnson also vetoed thousands of "line items" to reduce wasteful spending, cut taxes 14 times, and saw New Mexico's GDP increase almost 30 percent during his tenure. When he left office, New Mexico had a balanced budget and a $1 billion surplus. He is considered a strong contender for the Republican Presidential nomination. Johnson will have a message to deliver to Illinois state legislators regarding this bill.
Gov. Gary Johnson is currently the honorary chairman of the OUR America Initiative, a policy advocacy committee that promotes fiscal responsibility, civil liberties, and rational public policy. Perhaps Illinois' legislators can learn some fiscal responsibility from Governor Johnson.