TUA's Rae Ann McNeilly and Jared Labell were featured in an article by My Rock River Radio  on the release of pension data for Dixon, Sterling, Lee County and Whiteside County.

---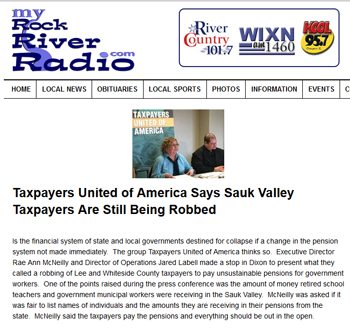 Is the financial system of state and local governments destined for collapse if a change in the pension system not made immediately.  The group Taxpayers United of America thinks so.  Executive Director Rae Ann McNeilly and Director of Operations Jared Labell made a stop in Dixon to present what they called a robbing of Lee and Whiteside County taxpayers to pay unsustainable pensions for government workers.  One of the points raised during the press conference was the amount of money retired school teachers and government municipal workers were receiving in the Sauk Valley.  McNeilly was asked if it was fair to list names of individuals and the amounts they are receiving in their pensions from the state.  McNeilly said the taxpayers pay the pensions and everything should be out in the open.
McNeilly admitted that the retirees are simply receiving the pensions as the unions and the government agreed upon.  She says the unions in the state are the major problems.
McNeilly says the unions make the deals with the politicians and they also give large sums of money to campaign coffers here and statewide.  McNeilly said the state needs to get rid of what she called cronyism in the state.  She said they have hopes Governor Rauner will be able to make some changes, but, she admits so far all they have seen are campaign talk.  She said in the mean time Lee and Whiteside governments will be forced to raise tax levies in order to meet pension obligations.