Chicago- According to Greg Bishop of The Center Square, activists backed by Illinois Governor J.B. Pritzker are spreading fake news in an effort to drum up support for their tax increase amendment.

In the article, the Vote Yes For Fairness group shared a screenshot on Facebook Oct. 9 of a tweet from @Liz_Uihlein. The Uihlein family owns Uline, one of the largest companies in Illinois. Vote Yes For Fairness also paid between $10,000 and $15,000 to promote the fake tweet on Facebook, with a potential reach of more than 1 million people, according to publicly available information from the social media giant.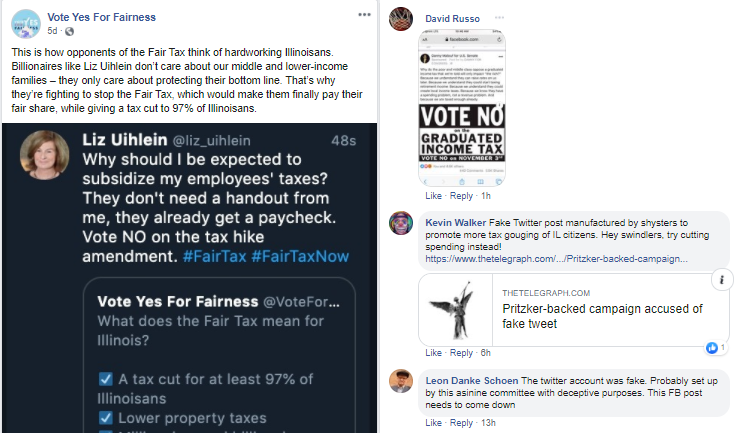 The fake Twitter account has since been removed for impersonation.

"On behalf of Uline, … the alleged Liz Uihlein Twitter account was a fake account, and that Liz Uihlein has never had a Twitter account," said Ellie O'Neil, a publicist with Mueller Communications LLC. "After being reported to Twitter, the fake account has been removed by Twitter for impersonation."

Executive Director of Taxpayers United of America, Matthew Schultz, weighed in on the issue. "This fake news pushed by Pritzker's minions is a microcosm of their entire referendum push," said Schultz. "The proponents of this 'fair tax' have nothing to stand on. There is no need for an income tax hike, there is only greed. When questioned on their motives, proponents of of tax increase will make up whatever they want in order to win."

"The truth of the matter is that Illinois is bankrupt because of lavish, overpromised, government employee pensions. The last $5 billion dollar income tax increase all went to fund their Ponzi pension plan, and now these tax thieves are coming back for more. The amendment on the November 3rd ballot is another step on the path to taxing into oblivion the Illinois middle class.

On November 3rd, taxpayers should vote NO on Prtizker's income theft amendment. No more tax increases, now is the time for reform.