Findings from TUA's pension project on Tallahassee, Florida, are featured in this article from TheLedger.com.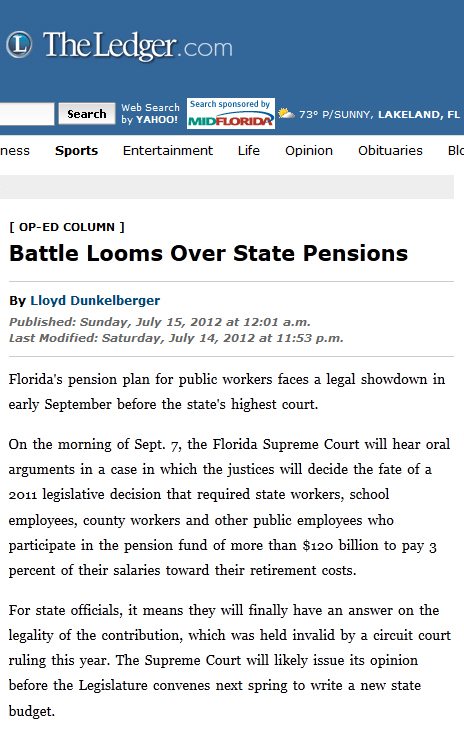 Florida's pension plan for public workers faces a legal showdown in early September before the state's highest court.
On the morning of Sept. 7, the Florida Supreme Court will hear oral arguments in a case in which the justices will decide the fate of a 2011 legislative decision that required state workers, school employees, county workers and other public employees who participate in the pension fund of more than $120 billion to pay 3 percent of their salaries toward their retirement costs.
For state officials, it means they will finally have an answer on the legality of the contribution, which was held invalid by a circuit court ruling this year. The Supreme Court will likely issue its opinion before the Legislature convenes next spring to write a new state budget.
If the state loses the appeal, it will complicate the budget-writing process both for state lawmakers as well as county governments — which have built in the savings from the pension contribution since 2011 into their budgets.
For the state, it would represent more than an $860 million recurring annual impact, including $456 million from the 3 percent employee contribution and $404 million from limiting cost-of-living adjustments for future retirees. County governments could face an annual loss of about $600 million.
But regardless of how the court rules, Florida's pension plan, as well as public pension plans in other states, are going to remain a hot topic in the political world.
Last week, another group came to Tallahassee to criticize Florida's pension plan.
"Pension funds are the No. 1 budgetary problem in the country, and Florida is no different," said Rae Ann McNeilly of the Chicago-based Taxpayers United of America, which produced a report highlighting what it says are "stunning" pension payments to public workers.
The group's report — which is available at
www.taxpayersunited.org
— showed that some high-level state workers could earn annual retirement payments well in excess of $100,000 each, assuming they worked 35 years for the state and retired after the age of 62.
"The purpose of our study is to put some perspective around individual pensions, to put them in terms to which the average taxpayer can relate," McNeilly said.
However, to put the report into context, it should be noted that the vast majority of public workers would not earn these highly lucrative pension payments. The report cited the highest-paid workers, but the bulk of state employees fall into the "career service" class, in which last-year workers averaged about $34,000 in annual pay and had a little more than nine years of service.
But McNeilly, whose organization is targeting pension funds throughout the country, said Florida is nearly alone among the states that do not require workers to contribute to their pension plans.
Florida workers stopped paying for their retirement in the mid-1970s. With the backing of Gov. Rick Scott, lawmakers revived the pension contributions in 2011 as a way of dealing with the state's ongoing budget problems.
McNeilly's group, which favors replacing the pension plans with Social Security and 401(k)-type plans, says workers should be contributing 10 percent of their pay to the funds. She also criticized a provision in state law that shields the identity of retired workers who receive pension payments and the optimistic financial assumptions built into Florida's pension fund earnings.
"As long as Florida shields its pension payments from taxpayer review and uses grossly overstated actuarial calculations, the Florida pension system remains a ticking time bomb," she said.
WINNER OF THE WEEK
Sandy Adams. The Orlando-area congresswoman picked up the endorsement of former Alaska Gov. Sarah Palin in heavily contested Republican primary that is pitting Adams, a favorite of the tea party supporters, against incumbent U.S. Rep. John Mica, an establishment Republican and chairman of the House Transportation Committee.
LOSER OF THE WEEK
Jennifer Carroll. The lieutenant governor says the allegations are baseless, but a former aide has claimed that Carroll's office was engaged in questionable sexual and ethical activities. The charges were made by an aide now facing criminal charges because of an illegal taping incident in the office.
QUOTE OF THE WEEK
"After considerable thought, introspection and conversations with my family, I have decided to resign from my position as president in order to initiate my retirement on Oct. 11, 2012," Florida A&M University President James Ammons said in a letter, announcing his resignation.