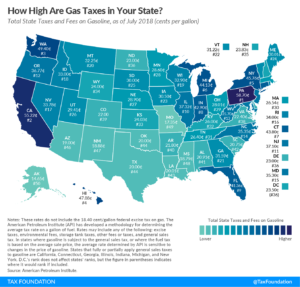 There is a terrible secret that has leaked from Springfield. Lame duck tax raisers are planning to pass a 30 cent gasoline tax increase on January 7 or 8 as a farewell gift. This tax gouge will give Illinois the highest gas taxes in the nation.
Information started to break as the Mayor of Chicago Rahm Emanuel and a union of tax thieving mayors called for a massive fuel tax increase to fund what they described as "infrastructure projects."
We know better than to believe that.
This state gas tax increase will heavily damage the Illinois economy, and chase even more taxpayers out of the state. For the year ending in 2018, Illinois continued a 5-year population decline and lost an additional 45,000 residents.
The bill will be voted on either the 7th or the 8th of January, so we do not have much time. We do not have the bill number, and we do not know in which chamber the bill will originate.  The only information we have is that it will happen on those dates, and the sources of this information are credible.
We must take this threat seriously and we need all hands on deck to defeat this. I strongly urge you to call your state representative and state senator and tell them to vote NO on any new gas tax. You can contact them by going go to http://ima-net.org/illinois-legislator-e-contact-lists/ to get their phone numbers and email addresses. If you do not know who your local politician is, you can find them and their contact information with an interactive map here. https://www.illinoispolicy.org/maps/
This is a fight that we can win. France, one of the highest taxed countries in the world protested a recent gas tax similar to the one being proposed in Springfield. They donned yellow vests and took to the streets demanding the government reverse the tax. They won! The tax was reversed.