Taxpayers United of America's recent study of the top 200 Illinois pensioners was cited by Disclosure News Online.
---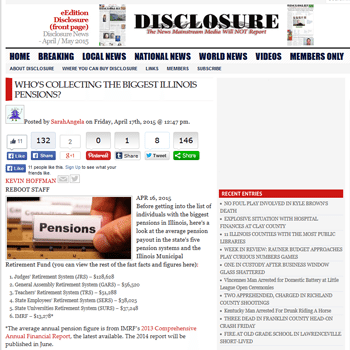 Before getting into the list of individuals with the biggest pensions in Illinois, here's a look at the average pension payout in the state's five pension systems and the Illinois Municipal Retirement Fund (you can view the rest of the fast facts and figures here):
Judges' Retirement System (JRS) – $128,628
General Assembly Retirement System (GARS) – $56,520
Teachers' Retirement System (TRS) – $51,288
State Employees' Retirement System (SERS) – $38,025
State Universities Retirement System (SURS) – $37,248
IMRF – $13,278*
*The average annual pension figure is from IMRF's 2013 Comprehensive Annual Financial Report, the latest available. The 2014 report will be published in June.
Taxpayers United of America, a Chicago-based organization dedicated to tax relief and "fighting government pensions," released its updated study of the top 200 Illinois pensioners who, as of Feb. 1, 2015, receive more than $200,000 a year in pension benefits.
"There are now 12,154 Illinois government pensions over $100,000 and 85,893 over $50,000," TUA President Jim Tobin said. "Those are staggering numbers considering the taxpayers who fund these pensions get an average Social Security pension of about $15,000 a year."
Of the state's 200 biggest pensioners, 81 belong to TRS and 111 to SURS. A Better Government Association investigation in 2013 revealed many of the top annuitants were University of Illinois at Chicago employees who retired, began collecting their pensions, and then were rehired after waiting the required 60 days in order to work part-time for a smaller salary.
Listed below are the top 25 pensioners along with their current or previous titles and employers. A data table follows with all 200 individuals who are receiving the most in Illinois pensions. Last year's report can be viewed here.
*Estimated lifetime pension payout includes the 3 percent compounded cost-of-living adjustment and assumes life expectency of 85 (IRS Form 590), according to TUA.
1. Tapas Das Gupta (SURS)
Title: Professor, Head of Department of Surgical Oncology, Chief of Service (Current)
Employer: UIC
Annual Pension: $466,409
Employee Contribution: $475,331
Age at Retirement: 72
Pension Collected to Date: $4,256,321
Estimated Lifetime Pension Payout: $5,203,131*
Percent Contributed to Estimated Lifetime Payout: 9.1%
2. Edward Abraham (SURS)
Title: Orthopedic Surgeon (Current)
Employer: UIC
Annual Pension: $453,164
Employee Contribution: $535,165
Age at Retirement: 66
Pension Collected to Date: $3,198,430
Estimated Lifetime Pension Payout: $9,002,459*
Percent Contributed to Estimated Lifetime Payout: 5.9%
3. Mahmood Mafee (SURS)
Title: Clinical Professor of Radiology (Current)
Employer: UIC
Annual Pension: $404,463
Employee Contribution: $562,570
Age at Retirement: 64
Pension Collected to Date: $3,038,008
Estimated Lifetime Pension Payout: $8,778,156*
Percent Contributed to Estimated Lifetime Payout: 6.4%
4. Herand Abcarian (SURS)
Title: Professor of Surgery, Division of Colorectal Surgery (Current)
Employer: UIC
Annual Pension: $370,140
Employee Contribution: $628,987
Age at Retirement: 67
Pension Collected to Date: $2,092,580
Estimated Lifetime Pension Payout: $6,833,263*
Percent Contributed to Estimated Lifetime Payout: 9.2%
5. Ronald Albrecht (SURS)
Title: Associate Professor of Anesthesiology; Chief, Anesthesiology Service, Jesse Brown VA Medical Center (Current)
Employer: UIC
Annual Pension: $368,742
Employee Contribution: $462,077
Age at Retirement: 70
Pension Collected to Date: $2,554,786
Estimated Lifetime Pension Payout: $5,380,260*
Percent Contributed to Estimated Lifetime Payout: 8.6%
6. James Ausman (SURS)
Title: Former Head of Neurosurgery at UIC. Currently Professor of Neurosurgery at UCLA
Employer: UIC
Annual Pension: $338,630
Employee Contribution: $418,471
Age at Retirement: 70
Pension Collected to Date: $2,143,866
Estimated Lifetime Pension Payout: $5,155,075*
Percent Contributed to Estimated Lifetime Payout: 8.1%
7. Jacob Wilensky (SURS)
Title: Professor of Ophthalmology (Current)
Employer: UIC
Annual Pension: $315,649
Employee Contribution: $410,791
Age at Retirement: 62
Pension Collected to Date: $2,822,676
Estimated Lifetime Pension Payout: $7,302,378*
Percent Contributed to Estimated Lifetime Payout: 5.6%
8. Phillip Forman (SURS)
Title: Professor Emeritus in Health Policy & Administration Department (Current)
Employer: UIC
Annual Pension: $307,702
Employee Contribution: $376,541
Age at Retirement: 67
Pension Collected to Date: $3,237,873
Estimated Lifetime Pension Payout: $4,871,504*
Percent Contributed to Estimated Lifetime Payout: 7.7%
9. Lawrence Wyllie (TRS)
Title: District Superintendent
Employer: Lincoln-Way HSD 210
Annual Pension: $302,991
Employee Contribution: $398,488
Age at Retirement: 75
Pension Collected to Date: $461,651
Estimated Lifetime Pension Payout: $3,155,952*
Percent Contributed to Estimated Lifetime Payout: 12.6%
10. Joel Sugar (SURS)
Title: Professor of Ophthalmology; Cornea Service Vice Chair; Clinical Operations (Current)
Employer: UIC
Annual Pension: $299,512
Employee Contribution: $446,643
Age at Retirement: 59
Pension Collected to Date: $2,732,588
Estimated Lifetime Pension Payout: $8,303,189
Percent Contributed to Estimated Lifetime Payout: 5.4%
11. Edward Andersen (IMRF)
Title: Former President & CEO, currently Senior Advisor
Employer: CGH Medical-Sterling
Annual Pension: $298,123
Employee Contribution: $312,570
Age at Retirement: 64
Pension Collected to Date: $561,267
Estimated Lifetime Pension Payout: $8,049,191*
Percent Contributed to Estimated Lifetime Payout: 3.9%
12. Henry Bangser (TRS)
Title: District Superintendent
Employer: New Trier TWP HSD 203
Annual Pension: $294,524
Employee Contribution: $275,366
Age at Retirement: 57
Pension Collected to Date: $2,156,709
Estimated Lifetime Pension Payout: $9,554,224*
Percent Contributed to Estimated Lifetime Payout: 2.9%
13. Gary Catalani (TRS)
Title: District Superintendent
Employer: CUSD 200
Annual Pension: $293,214
Employee Contribution: $289,151
Age at Retirement: 56
Pension Collected to Date: $1,890,723
Estimated Lifetime Pension Payout: $10,299,070*
Percent Contributed to Estimated Lifetime Payout: 2.8%
14. Craig Bazzani (SURS)
Title: Former Vice President for Business Affairs, currently Senior Advisor for Foundation Advancement at the University of Illinois Foundation
Employer: U of I Urbana-Champaign
Annual Pension: $290,220
Employee Contribution: $298,686
Age at Retirement: 55 (Retired under a pension formula intended for police officers and firefighters)
Pension Collected to Date: $3,070,262
Estimated Lifetime Pension Payout: $9,385,910*
Percent Contributed to Estimated Lifetime Payout: 3.2%
15. Laura Murray
Title: District Superintendent
Employer: Homewood-Flossmoor CHSD 233
Annual Pension: $288,472
Employee Contribution: $298,591
Age at Retirement: 57
Pension Collected to Date: $1,676,100
Estimated Lifetime Pension Payout: $9,948,462*
Percent Contributed to Estimated Lifetime Payout: 3.0%
16. George Honig (SURS)
Title: Professor Emeritus, Department of Pediatrics (Current)
Employer: UIC
Annual Pension: $288,017
Employee Contribution: $401,027
Age at Retirement: 67
Pension Collected to Date: $2,712,912
Estimated Lifetime Pension Payout: $4,919,828*
Percent Contributed to Estimated Lifetime Payout: 8.2%
17. Joel Milner (SURS)
Title: Professor Emeritus, Psychology (Current)
Employer: NIU
Annual Pension: $285,635
Employee Contribution: $429,142
Age at Retirement: 63
Pension Collected to Date: $1,978,988
Estimated Lifetime Pension Payout: $6,859,441*
Percent Contributed to Estimated Lifetime Payout: 6.3%
18. Mary Curley (TRS)
Title: District Superintendent
Employer: Hinsdale CCSD 181
Annual Pension: $280,172
Employee Contribution: $248,708
Age at Retirement: 55
Pension Collected to Date: $1,806,626
Estimated Lifetime Pension Payout: $10,362,182*
Percent Contributed to Estimated Lifetime Payout: 2.4%
19. John Folse (SURS)
Title: Chair of Department of Surgery
Employer: SIU Carbondale College of Medicine
Annual Pension: $279,703
Employee Contribution: $288,201
Age at Retirement: 67
Pension Collected to Date: $3,356,496
Estimated Lifetime Pension Payout: $4,221,029*
Percent Contributed to Estimated Lifetime Payout: 6.8%
20. James Schuler (SURS)
Title: Surgeon, Division of Vascular Surgery
Employer: UIC
Annual Pension: $277,703
Employee Contribution: $564,913
Age at Retirement: 59
Pension Collected to Date: $2,330,531
Estimated Lifetime Pension Payout: $7,928,160*
Percent Contributed to Estimated Lifetime Payout: 7.1%
21. Gerald Moss (SURS)
Title: Dean of UIC College of Medicine
Employer: UIC
Annual Pension: $274,386
Employee Contribution: $475,674
Age at Retirement: 70
Pension Collected to Date: $2,251,535
Estimated Lifetime Pension Payout: $3,708,289*
Percent Contributed to Estimated Lifetime Payout: 12.8%
21. Henry Gmitro (TRS)
Title: District Superintendent
Employer: CCSD 93
Annual Pension: $273,573
Employee Contribution: $282,750
Age at Retirement: 56
Pension Collected to Date: $1,314,213
Estimated Lifetime Pension Payout: $10,192,462*
Percent Contributed to Estimated Lifetime Payout: 2.8%
22. Reginald Weaver (TRS)
Title: President
Employer: National Education Association
Annual Pension: $273,113
Employee Contribution: $264,894
Age at Retirement: 69
Pension Collected to Date: $1,576,733
Estimated Lifetime Pension Payout: $4,351,312*
Percent Contributed to Estimated Lifetime Payout: 6.1%
23. Maureen Hager (TRS)
Title: District Superintendent
Employer: North Shore SD 112
Annual Pension: $271,653
Employee Contribution: $277,774
Age at Retirement: 58
Pension Collected to Date: $1,353,397
Estimated Lifetime Pension Payout: $9,143,454*
Percent Contributed to Estimated Lifetime Payout: 3.0%
24. Melvin Lopata (SURS)
Title: Professor Emeritus of Medicine
Employer: UIC
Annual Pension: $270,174
Employee Contribution: $417,772
Age at Retirement: 62
Pension Collected to Date: $2,625,165
Estimated Lifetime Pension Payout: $6,085,494*
Percent Contributed to Estimated Lifetime Payout: 6.9%
25. Stephen Rugg (SURS)
Title: Comptroller, Vice President for Planning and Administration
Employer: U of I Urbana-Champaign
Annual Pension: $266,138
Employee Contribution: $318,649
Age at Retirement: 63
Pension Collected to Date: $1,773,886
Estimated Lifetime Pension Payout: $6,321,201*
Percent Contributed to Estimated Lifetime Payout: 5.0%