Taxpayers United of America's operations director, Jared Labell, was quoted by The Herald-News in an article about Taxpayers United of America's recent pension release for Will County and Joliet.
---
Taxpayers United of America on Wednesday put a spotlight on pensions in Will County and Joliet.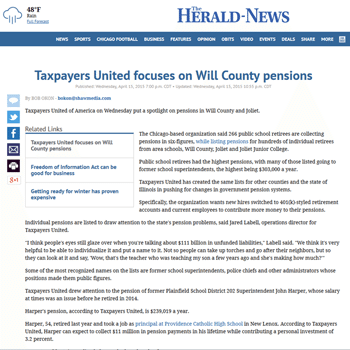 The Chicago-based organization said 266 public school retirees are collecting pensions in six-figures,
while listing pensions
for hundreds of individual retirees from area schools, Will County, Joliet and Joliet Junior College.
Public school retirees had the highest pensions, with many of those listed going to former school superintendents, the highest being $303,000 a year.
Taxpayers United has created the same lists for other counties and the state of Illinois in pushing for changes in government pension systems.
Specifically, the organization wants new hires switched to 401(k)-styled retirement accounts and current employees to contribute more money to their pensions.
Individual pensions are listed to draw attention to the state's pension problems, said Jared Labell, operations director for Taxpayers United.
"I think people's eyes still glaze over when you're talking about $111 billion in unfunded liabilities," Labell said. "We think it's very helpful to be able to individualize it and put a name to it. Not so people can take up torches and go after their neighbors, but so they can look at it and say, 'Wow, that's the teacher who was teaching my son a few years ago and she's making how much?'"
Some of the most recognized names on the lists are former school superintendents, police chiefs and other administrators whose positions made them public figures.
Taxpayers United drew attention to the pension of former Plainfield School District 202 Superintendent John Harper, whose salary at times was an issue before he retired in 2014.
Harper's pension, according to Taxpayers United, is $239,019 a year.
Harper, 54, retired last year and took a job as
principal at Providence Catholic High School
in New Lenox. According to Taxpayers United, Harper can expect to collect $11 million in pension payments in his lifetime while contributing a personal investment of 3.2 percent.
Harper could not immediately be reached Wednesday for comment.
Plainfield School District 202 spokesman Tom Hernandez issued a statement saying Harper's contract was based on his "success guiding what was the fourth largest school district in Illinois through almost 10 years of unprecedented growth, significant curriculum change, tremendous socioeconomic changes and many other challenges unique" to the school district.
Harper had the second highest pension in Will County, according to the list.
The highest is former Lincoln-Way School District 210 Superintendent Lawrence Wyllie, at $302,991. Wyllie's contributions were calculated at 13.2 percent. The school district could not be immediately reached for comment.
–––––
Pensions Listed at taxpayersunitedofamerica.org