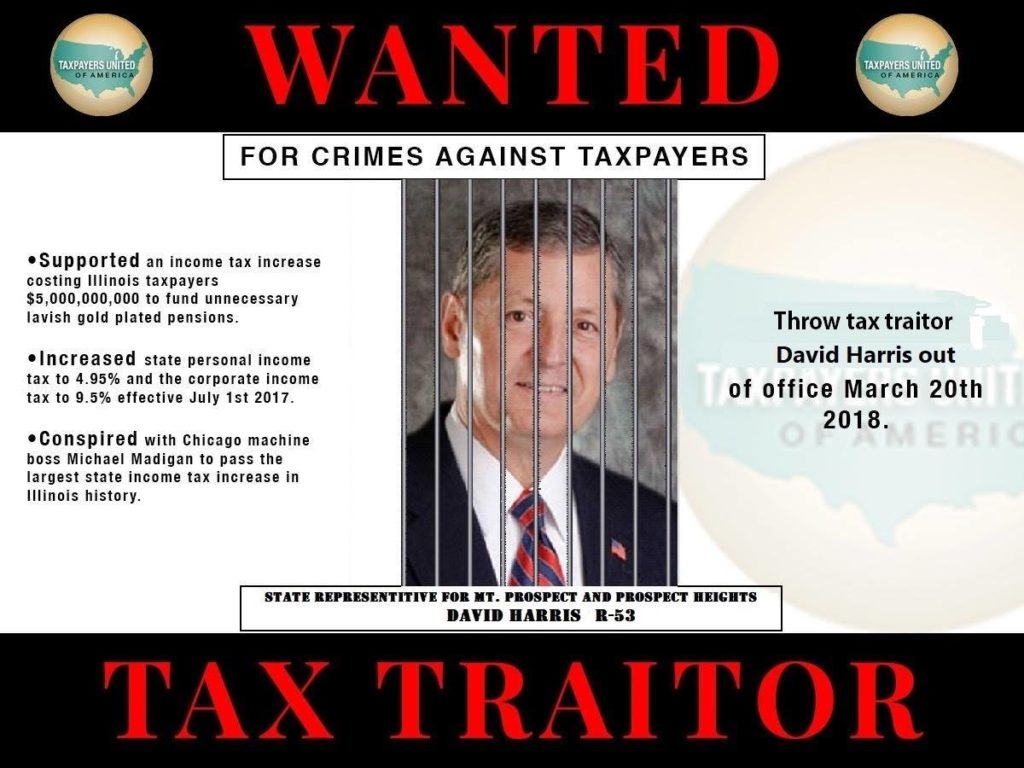 CHICAGO—The second Republican "Taxpayer Traitor" David Harris has been named on August 24, 2017, at the headquarters of Taxpayers United of America (TUA), 205 W. Randolph Street, Suite 1305,
The press conference was held after a TUA victory in Illinois House district 65. TUA helped oust Representative Steven A. Andersson from his current district. Representative Andersson was the last tax traitor to be named, and TUA takes rightful credit  for ending his run as state representative.
"(Steven A. Andersson) is gone, that's one down, and eight to go," said Jim Tobin, TUA President.
Now TUA turns its attention to David Harris of district 53. David Harris was one of the Tax Traitors that sided with Michael Madigan, raising the personal income tax rate by 32% this last July. Shifting pressure onto David Harris, TUA will be utilizing new tactics that were deployed against Rep. Steven Andersson, and will increasing the intensity of their efforts.
"It's a shame that these Republicans have betrayed their constituents, and Mr. Harris needs to be thrown out of office," later stated Jim Tobin.
These Taxpayer Traitors have betrayed their constituents and must pay the price. TUA will continue to expose these Republican turncoats until all are gone. It's time for a massive housecleaning in Springfield!
View Daily Herald News article featuring TUA!